Planning research data management
Before we embark on a research project, it is important and helpful to plan how we will handle the data and results that emerge in future stages of the project. Documenting these plans is a pre-requisite for reuse and therefore ultimately dictates the frequency with which the research data is likely to be cited by other researchers. A structured data management plan (DMP) is a useful tool in this context.
Data management plan (DMP)
A data management plan describes the data the researchers intend to collect or generate during the research process and how they intend to use and store this data during their lifecycle. The DMP essentially serves to answer a series of key questions:
Description of the research project
Type of data involved
Scope and quality of data
How the data will be organised
Data usage
Metadata and referenceability
Storage and security
Publication
Citability
Legal aspects and anonymisation
(Long-term) digital preservation
Responsibilities and obligations
Costs and resources
Deletion
A DMP is created before the project starts and will be updated as required over the course of the project.
Research funders often require the submission of a DMP at the beginning of a project, e.g. DFG or EU, as part of their research funding programs. In some cases, they provide their own templates for this purpose.
Various software tools are available to help create a DMP. In Germany, DFG funding was used to develop the Research Data Management Organizer (RDMO). By catering to the dynamic development of a DMP throughout all the phases of a research project, the RDMO provides effective support for the entire research data management process.
RDMO4Life
PUBLISSO offers RDMO4Life for all research institutions working in the field of life sciences. It includes templates for questionnaires, project description, tasks and DMPs, as well as versioning of information and im- and export functions.
Please get in touch with us for access and advice on using this product.
How to use RDMO4Life
Information provided on this page is intended for researchers and other staff from infrastructure facilities who work in the life-sciences and who would like to know how to use RDMO4Life. It follows the steps needed from creating an RDMO4Life account to producing a textual view of a DMP (in line with the requirements of funding organisations).

Steps
Get in touch with us to get advice on accessing and using RDMO4Life. We create an RDMO4Life account for each member of the project team, or for the whole research project (in which case there will be a central instance for the project).
The input is collected via a structured interview using a web interface (Fig. 1). Alternatively, if we are included as a partner in your project, we can take care of interviewing the project members (for more information about collaborating with us, please contact us).
Several revisions to update the DMP are conducted over the course of the research project, because a DMP is a living document. The revisions are determined by the progress made during the project. New findings (e.g. new data formats) might require the addition of questions and answers. Systematic annual or biennial revisions may also take place. Ideally, the revisions are handled by a data manager who is involved in the project.


Output
Besides textual view of DMPs, in line with the requirements of funding organisations (Fig. 2), the output of RDMO4Life includes:
Timeline of tasks to be done in terms of data management
Notifications about upcoming predefined events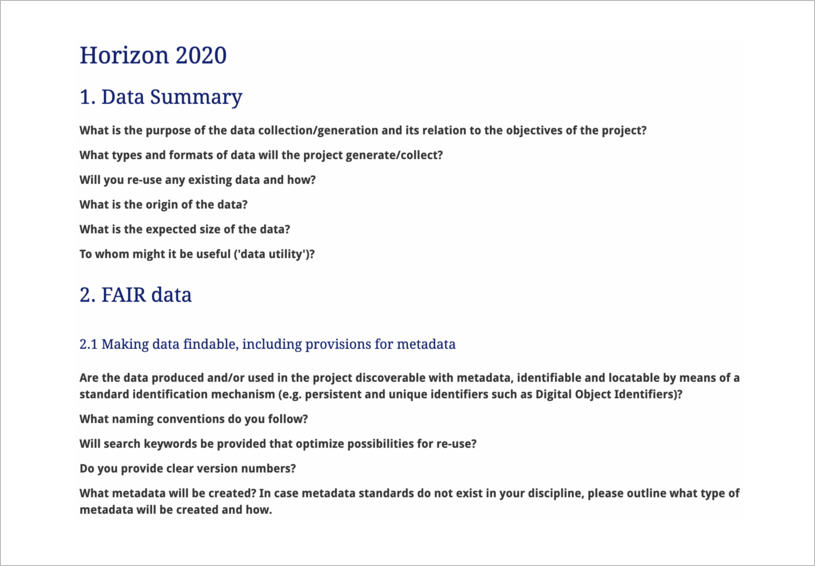 Our Service
If you are interested in our help to go further with RDMO4Life (e.g. leading interviews to complete the questionnaire), please contact us and we will introduce you to our service model.
"Help" in the sense of advice on the use of RDMO is free of charge. However, if we provide actual services, such as entering the questions and answers into RDMO4Life, then costs are incurred.