Repositories
Our Specialist Repository for Life Sciences can help you make your publications available online through the green open access model (self-archiving).
learn more
If you are a doctoral student at the Medical Faculty of the University of Cologne – or even at a different university – you can publish your thesis through PUBLISSO.
learn more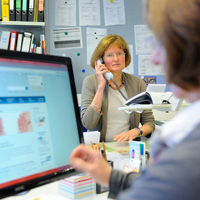 PUBLISSO is a driving force for open access.
We are the point of contact for life sciences institutes of the Leibniz Association who wish to publish documents in LeibnizOpen, the central open access portal of the Leibniz Association.
learn more