Open access advice
The Publishing Advice Service can offer advice and assistance on all issues relating to digital publishing and open access in the realm of life sciences.
We currently provide advice in the following formats:
Key information in the form of Frequently Asked Questions (FAQs), which will continuously be updated.
learn more
Workshops on a variety of topics for researchers and for key disseminators from scientific libraries, graduate schools, and university life sciences departments.
learn more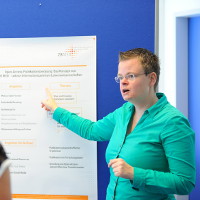 PUBLISSO brings digital publishing to life.
Personal consultations
Please contact us via our
Contact